Pack 16's ONLY fundraiser is Popcorn Sales!
Our Pack budget is supplemented by the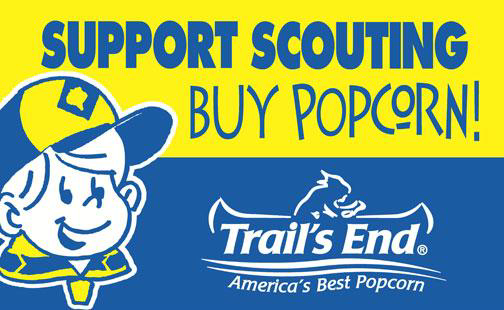 annual popcorn sale. Each year The Boy Scouts of America® conducts this sale nationwide through the Trail's End Company of Indiana. Our Pack participates in this sale with proceeds going to our Pack, the Lenape Trails District and the Northern New Jersey Council.
Seventy percent of the money raised through popcorn sales goes back into Scouting. Our chairperson for this important fund raiser is Popcorn Kernel Scott Kuperman. The Pack needs the support of all of our Cub Scouts and their Parents to make this fund-raiser a financial success. The many varieties and excellent quality of the products offered make it an easy sale to make. In addition to the usual "take-order" popcorn sale, our Pack will be participating in a "show and sell" popcorn sale. More information will be made available by our chairperson.
Remember, "Girl Scouts sell cookies and Boy Scouts sell the world's BEST popcorn! " We need every family's support to make the sale a success.
• We Need Every Scout to Do Your BEST ! And help to Make the Pack Go
• Ask friends, family, and neighbors to help by buying the world's best popcorn
• Set a Goal for Yourself ($500 / Scout minimum)
• Do your Best and Have Fun!!
Why do we have a Fundraiser? To pay for the following!
o Family Campout
o Family Picnic & Rocket Launch
o Trip to Washington D.C.
o Camp Winnebago for Archery and BB Gun
o Awards, Belt Loops
o Equipment and Supplies for Projects
o Pinewood Derby Kits, Equipment and Raffle Prizes
o Tools, Golf Clubs, Grill
o Tents and Camping Supplies
There are prizes and awards to be won for selling popcorn!
Ways to Sell
Take Order
• This is the most traditional way to sell
• Door-to-door with take order form
• Customer chooses the product(s) to buy and writes the order on your form
• You collect the money when you take the order Checks made out to "Pack 16"
• You deliver product to customers late November / Early December
Show and Deliver
• Similar to Take Order, except you carry products with you
• Customer selects products from your product inventory
• You hand over the product and collect the money
BIG ADVANTAGE: No return trip for delivery!
Selling Online
• Best way to sell to out of town friends & and family
• Send emails asking them to make purchase online
• Customers click on the link in your email and can begin shopping right away
• They order online and pay with a credit card
• Products shipped directly to your customers
BIG ADVANTAGES:
* No product delivery
* No money collection
* Ability to sell to your friends & family who live far away
Selling at Work
• Your mom and/or dad take an order form to work
• Their co-workers write their order on the order form
• Your mom and/or dad deliver product in late November / Early December
BIG ADVANTAGE: Expands your customer base
Show and Sell
• Our pack gets permission to sell in front of a retail store, local mall, houses of worship, train stations
• We set up a display with products for people to purchase as they walk by
BIG ADVANTAGE: Access a large number of potential customers and promotes Scouts in our community at St. Philomena's in October
Blitz Day & Training
• Usually Sunday last week of September at the back parking lot @ St. Philomena's
• We divide Scouts into groups
• They go to different areas as teams
• Older Scouts help younger Scouts
• Akela's are needed to go with scouts
• Friendly competition
• Prizes given to members of wining teams
• In Class "A" Uniform